Chair Yoga & Other Classes Open to the Community at a Church near Palm Harbor, FL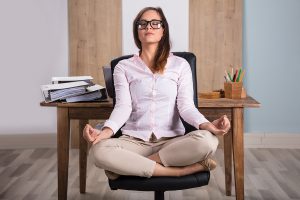 A chair yoga class is a great way to enjoy the benefits of exercise along with the camaraderie of others. If you live in Palm Harbor, Florida, or a neighboring community, you may be interested in the classes taught by certified yoga instructors at Trinity Presbyterian Church in nearby Clearwater. The chair yoga class is offered at 5:30 p.m. each Wednesday at our church, and it is just one of the events we host for community residents. We also offer centering prayer classes on Tuesdays and numerous concerts and special events throughout the year.
The chair yoga classes taught at Trinity Clearwater are designed to accommodate older adults and others who may have mobility issues by allowing them to participate in the exercises from the comfort of a chair. However, class participants who don't need a chair are welcome to join the group and perform the exercises in the traditional way.
Many people who live and work in the Palm Harbor, FL, area encounter stress in their everyday lives, and chair yoga classes offer an effective antidote. Some of the benefits of yoga for class participants include:
An improved sense of calm and mental clarity achieved through breathing exercises and meditation that can reduce anxiety and enhance the ability to deal with physical and emotional pain
Better flexibility and improved physical strength through gentle exercises that can increase the ability to stay active and recover more quickly from injuries and illnesses
Opportunities to socialize with other people and enjoy their support and encouragement
To find out more about the chair yoga class and other events available on our church campus to residents of Palm Harbor, FL, and other communities within easy driving distance of Trinity Clearwater, contact us today.