Chair Yoga & Centering Prayer: Stress-Busting Classes that Are Open to Residents of the Largo, FL, Area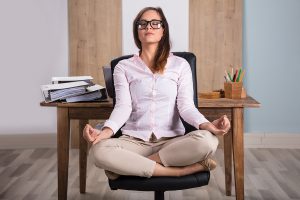 With meditation and physical exercise, chair yoga classes can help people cope with the pressures of life, and Trinity Presbyterian, just a few miles away from Largo, Florida, makes it easy for community residents to enjoy the benefits of this gentle discipline. We offer chair yoga classes taught each week by certified instructors on our church campus. These classes are among programs that Trinity Clearwater makes available to everyone who wishes to participate, and we encourage residents of neighboring communities such as Largo, FL, to drive the short distance to attend. We also offer a weekly centering prayer class that provides a guided opportunity for quiet contemplation and the chance to strengthen the participant's connection to God and others in the group.
Meditation is a key component of both our chair yoga and centering prayer classes. The benefits of meditation have been confirmed recently through separate scientific studies conducted by researchers affiliated with Harvard Medical School and Emory University. Generally, these studies concluded that regular meditation can help participants:
Exercise better control over emotions
Remain calm in stressful situations
Experience lower blood pressure and other health benefits
The chair yoga class at our church is designed to accommodate participants at all levels of physical ability. Participants may choose to perform the poses, stretches, and breathing exercises from the comfort of a chair or in a standing position.
In keeping with our mission to be an open and inclusive church, we host a variety of events aimed at helping people from all walks of life and diverse faith perspectives find their place in our community. We also welcome everyone to join us for our dynamic worship service on Sunday mornings.
For more information about our chair yoga and centering prayer classes or our many other programs that are open to residents of the Largo, FL, area, contact Trinity Clearwater today.